Today (February 26th, 2020) would have been Johnny Cash's 88th birthday, and so I'm spinning one of my favorite albums (in my entire collection, not just his discography) in tribute. This isn't your granddad's Cash, but no doubt he'd be able enjoy it – as would your father; it's an album for the whole family as it transcends genre and eras of music.
Released as the 4th entry in his American Recording series (which started out by recording in Rick Rubin's living room), The Man Comes Around was recorded at the label's studio and release in 2002; just one year before Cash's death. Even in the end, Cash delivered a stunningly beautiful and haunting record; one that gives me chills every time I spin it. The recordings are mostly cover songs, with just 3 originals by Cash out of the 15 tracks, but these aren't your run of the mill covers – he truly made these songs his own. The album is also a who's-who of famous musician after famous musician. Fiona Apple, Don Henley, and Nick Cave make vocal contributions; John Frusciante of Red Hot Chili Peppers' fame and Tom Petty & The Heartbreaker's guitarist Mike Campbell provided guitar tracks. In all, The Man Comes Around features songs by Nine Inch Nails, Simon & Garfunkel, Sting, Depeche Mode, The Beatles, The Eagles, and Hank Williams.
The album opens with the title track, just one of the three Cash originals featured. The song is littered with references to the Bible's Book of Revelation (including Cash speaking some readings from Revelation in the intro and outro of the tune). It was originally written a few years prior to the album's release, but was reworked in 2002. It was one of the last songs Cash ever wrote. Following that, the 2nd track is arguably the song that re-launched Cash into stardom for a new generation, and has been used countless times in movies and television since its recording. Hurt, originally written and performed by Trent Razor and NIN for their 1994 album The Downward Spiral, also featured a music video released in 2003 that featured images of Cash's life – it was named the best video of the year at the Grammys and CMA Awards. When approached about the idea of letting Cash record the song, NIN's Razor said he was flattered but was concerned that the idea was a bit of a gimmick. That changed when he saw the video and heard the song. He was quoted as saying:
I pop the video in, and wow… Tears welling, silence, goose-bumps… Wow. I felt like I just lost my girlfriend, because that song isn't mine anymore… It really made me think about how powerful music is as a medium and art form. I wrote some words and music in my bedroom as a way of staying sane, about a bleak and desperate place I was in, totally isolated and alone. Somehow that winds up reinterpreted by a music legend from a radically different era/genre and still retains sincerity and meaning – different, but every bit as pure.
The next highlight of the album comes in the form of a duet with Fiona Apple on Bridge over Troubled Water. Cash's ashy and stone-like vocals, opening with "When you're weary; feeling small" set the tone until the beautiful, flute-like, voice of Apple comes in. It's a perfectly mis-matched pairing of voices that works incredibly well…so well, in fact, that it was nominated for a Grammy in 2003 for the best country collaboration. Flipping to side B, we open with a Sting cover, I Hung My Head; a track String wrote as a dedication to the TV westerns he loved as a kid. The real gems on this side of the album, though, are Depeche Mode and Beatles covers. Personal Jesus had never rocked so hard as it does with an acoustic guitar and Johnny Cash telling you to "pick up the receiver, I'll make you a believer". Side B closes with "In My Life", which I personally love as a closing track to disc 1. Many people feel Disc 1 is superior to the second in the double album, buy MAN you are sleeping on the second half of this album if you skip it. It opens with a Tex Ritter song that can only be described in a visual that was incredibly famous of Johnny Cash – giving you the middle finger. As it goes, "and I hate you one and all, damn your eyes!" – Sam Hall is one of my personal favorite Cash tracks of all time! The goodness doesn't end there, as track C2 is a beautiful cover of the traditional ballad Danny Boy. Get out the bagpipes and a box of tissues for that one.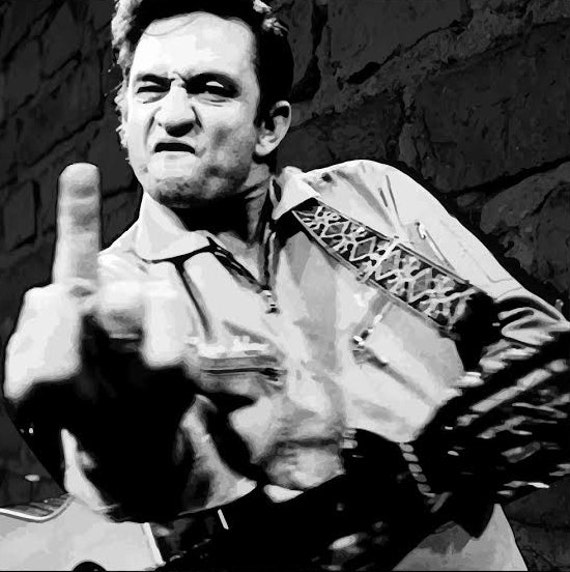 I could probably talk endlessly about each song, analyzing the lyrics and comparing Cash's version to the originals, but I'm not sure there's enough characters allowed in a single post for that. But I do want to talk specifically about the vinyl release itself. The version pictured above is from the 2014 remastered release series. The sound quality on all of the remastered entries in the American Recordings series is gorgeous. Though recorded digitally, the best sound available is on the analog format. Rick Rubin did a remarkable job getting these tracks captured, and vinyl fans were blessed by the graces of mastering engineer Chris Bellman working on this project (with Rubin supervising). As a bonus, the US versions were platted and pressed at QRP – the pressing plant used for Analogue Productions and Vinyl Me, Please (Classics) released; known for superior quality control. EU versions, however were pressed at GZ Media, which is not as well regarded as QRP. If you're in the market for this album, make sure you aim for a US pressing! Bellman noted, back in 2014 on the Steve Hoffman Forums, that there were actually 2 sets of lacquers cut for this – one for QRP and one for GZ. Now, I haven't heard any complaints about the cut from GZ (though I have heard issues about surface noise and quality defects), so I can't say if one lacquer cut is better than the other – but I'd still suggest going with the QRP pressing to be safe.
Between the excellent recordings, the song selections, the guests, Cash's performance, and the quality in the 2014 vinyl release – this is one of my favorite albums in my collection and probably the one I've spun the most often over the past 5+ years. So, again, I'm celebrating Mr. Cash much in the way I celebrate his music nearly every week; I'm going to be spinning this album on repeat all morning! Happy Birthday to the bad ass Man in Black!